Amaia Scapes General Trias - LOCATION
Amaia Scapes General Trias Is located at Arnaldo Highway, Brgy. Santiago, General Trias, Cavite.
Amaia Scapes General Trias is strategically located on the Arnaldo Highway almost at the junction with Open Canal Road, General Trias. To be exact, it is located to the north of Cavite. From the community to the Cavite Provincial Capitol is about 18.27 kilometers while the distance between the property development site and Trece Martires City is 35 kilometers. From the capital Manila, Amaia Scapes General Trias lies to the south west.
The general shape of land defining General Trias is bound by Noveleta to the north, Kawit and Imus to the north east, and Dasmarinas to the east. As you go towards the south east, it is bordering Silang, to the south is borders Amadeo, and to the west there is Tanza.
The bets way of highlighting this area is by looking at the schools, retail stores and shopping malls around. Furthermore, they are part of the reasons homeowners choose to settle in this community.

Educational Institutions
There are prominent schools around this community because education here is viewed as a critical component of human development and thus highly treasured. Among the schools you may want to consider for your children include:
 
Lyceum of the Philippines University (LPU) – Cavite – This is an institution of higher learning situated in General Trias. It forms one of the 5 campuses that make the LPU ecosystem.
 
Immaculate Conception Academy – This is a private education institution established in 1947 and located in Dasmarinas. It caters for pre-school and Grade 1 to 12.
 
De La Salle University Dasmarinas – This is a Roman catholic university established in 1987 and sits on an expansive 29 acres of land. It offers full scale courses in business administration and accountancy.

Retail Facilities
There are renowned retail stores around Amaia Scapes General Trias including Pure Foods which is the largest food company in the whole of Philippines. This retail chain is part of a network of farms, manufacturing, and distribution facilities founded in 1956.
The other massive retail facility is Magnolia which is among the largest dairy establishments in Philippines known for brands such as Dari Crème, Baker's Best, and Lapacita. 
Pure Gold is another retail chain boasting of over 200 stores worldwide that has a footprint in General Trias.
If you are a fan of meat products, you have every reason to live in this community because one of the biggest retail establishments, Monterey, has its presence here.
There are also shopping malls such as SM Dasmarinas, Robinson's Place, and Cavite District. These offer not just places to shop, but also to have fun with family as you catch up with friends. 

Health Facilities
Health being a key component of our general wellbeing, you can't afford to miss out on proper medical care. True to its word, Amaia Land ensured that it puts up a residential community in a location within reach to some of the best hospitals in Cavite. Among the hospitals located a few minutes from Amaia Scapes General Trias include:
 
De La Salle University Medical Center – This is a medical facility allied to the De La Salle University.
General Trias Medical Center – Located on Santusan Street in Barangay Manggahan, this is a general surgery hospital.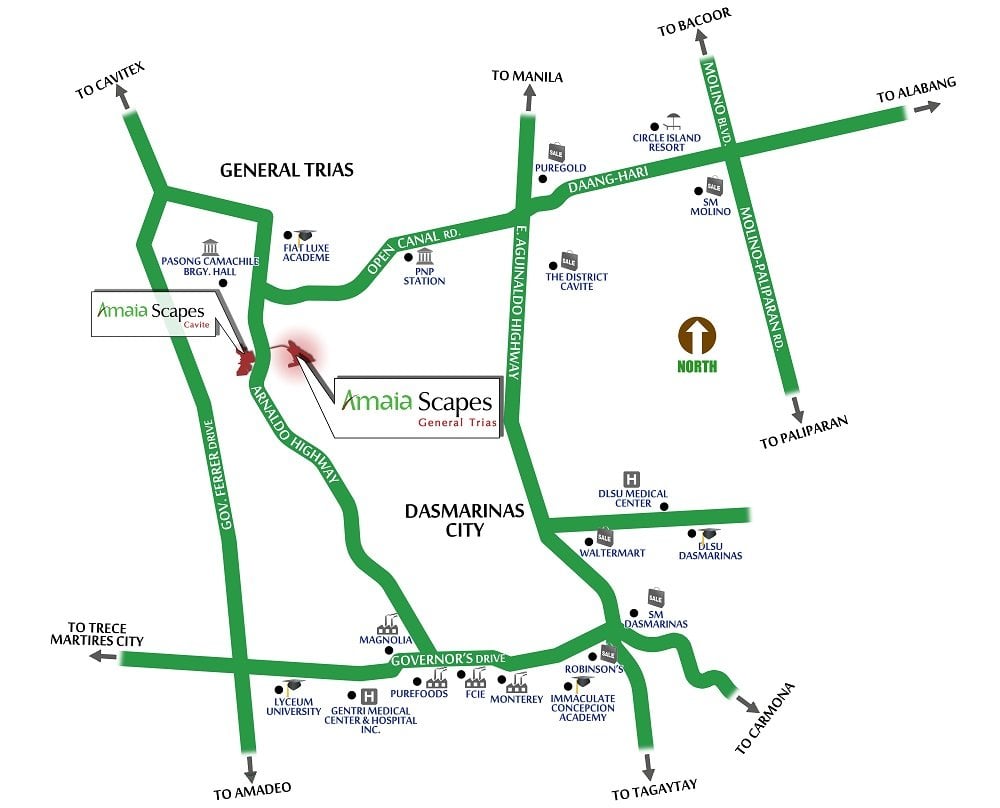 Situated at the northern part of the province, the distance from the Provincial Capitol in Trece Martires City is 18.27 km. and 35 kms. Southwest of Manila. The land shape of General Trias follows the path of its territorial boundaries in the eastern and western section, which is the river. It is bounded in the north by Noveleta; in the northeast by Imus and Kawit; in the east by Dasmariñas; in the southeast by Silang; in the south by Amadeo; in the west by Tanza; Rosario in the northwest and Indang in the southwest.